Matthew Flinders was a sailor, explorer, mapmaker, and navigator who served in England's Royal Navy and once sailed with William Bligh after the events recounted in Mutiny on the Bounty. History remembers Flinders as the man who gave Australia its current name, and for completing the first circumnavigation of that island continent.
But history also honors the cat who made that voyage and many others with Flinders. If you visit the Mitchell Library in Sydney, you will find a statue of Flinders and, very near to it, a plaque and statue of Trim, the black-and-white feline adventurer who was born on a ship at sea and enjoyed waging war against one of the true terrors of nautical life: the pestilent vermin who sought to eat the sailors' food.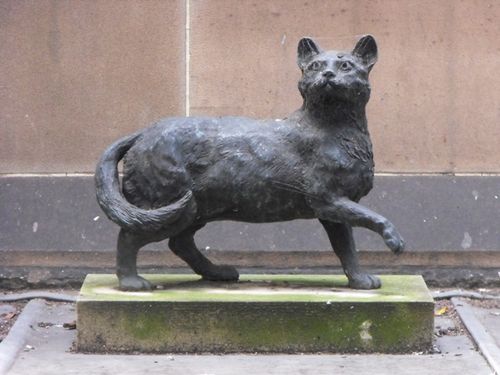 The first time I read about Trim, it was in the hilarious and detailed history of Australia, Girt by David Hunt. Today, I was reminded of Trim while reading the small but delightful 100 Cats Who Changed Civilization by Sam Stall. Each short chapter tells the tale of a noteworthy cat, from the first known cat to be named thousands of years ago to exceptional cats of the current century, from cats of well-known authors and heads of state to cats in recent popular culture. Trim's chapter is the second to last.
I highly recommend both Girt and 100 Cats Who Changed Civilization, but their summaries of Trim's life pale in comparison to the affectionate memoir penned by Flinders himself. You can read it for free online at The Flinders Papers.
With a little exaggeration, as cat lovers are prone to make, and a great deal of love and respect for his sea-faring companion of many years, Flinders describes Trim's travels, travails, and triumphs. I sometimes worry that my fiction stories involving a space-traveling cat living with interplanetary rogues and brigands will strain the reader's suspension of disbelief. But when reading Trim's story in Flinders' own words, and the stories in 100 Cats, I am reminded of the great variety of character and capability to be found among felines, many of which defy our stereotypical ideas about what cats can do, and feel, and accomplish.
Flinders' memoir about Trim ends with an epitaph. Here are its final lines:
Many a time have I beheld his little merriments with delight,
and his superior intelligence with surprise:
Never will his like be seen again!
Trim was born in the Southern Indian Ocean, in the year 1799
and perished as above at the Isle of France in 1804.
Peace be to his shade, and
Honour to his memory.
—Matthew Flinders, 1809.